Title: Monte Carlo Opera Masters
Type: Classical / Opera
Format: One hour, weekly (56:00)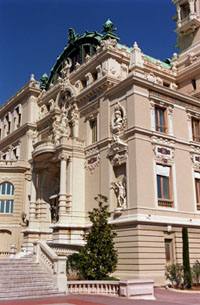 Host: Jonathon Tolansky
Recommended for : Classical / Fine Arts,
supplementary for News/Talk weekends or nights
Programming tool: Audience builder. Image and brand enhancer
Commercial opportunity: 4 Minutes of local availability provided
Monte Carlo Opera Masters is a weekly fine-arts radio series of superlative quality. Every one-hour program consists of two parts -- each with its own character and purpose. In Part One, series host Jonathon Tolansky features excerpts from the world's most loved operatic works. Jonathon's depth of knowledge along with his marvelous sensitive and interpretive wit combine to give the listener a more meaningful understanding of the great opera repertoire.
In Part Two, Jonathon provides interviews of the biggest opera stars of today and also personal memories of opera legends of the past. His interviewing style helps the most complicated and reserved performers open up with their personal thoughts of performing, of success and their feelings towards other giants of the opera world. Radio listeners return to Monte Carlo Opera Masters every week to hear Jonathon's interviews and "picture painting" presentation style.

Formerly a musician with the Royal Opera at Covent Garden as well as many of London's major symphony orchestras, Jonathon Tolansky is an award winning international broadcaster and lecturer. He is also a writer and archivist of music performance. He was the co-founder and, for eleven years, the Administrator of the Music Performance Research Centre (MPRC) at the Barbican Centre, an innovative audio-visual organisation that he conceived for the archival recording, preservation and study of 'live' performances of music. As an orchestral musician, Tolansky played frequently with the London Symphony Orchestra as well as the Philharmonia, Royal Philharmonic and BBC Symphony Orchestras, and held a principal chair in the Orchestra of the Royal Opera House, Covent Garden.

Guests appearing on Monte Carlo Opera Masters include Barbara Hendricks, Roberto Alagna, Dame Joan Sutherland, Jose Carreras, Cecilia Bartoli, Angela Gheorghiu, Jose Cura, Dietrich Fischer-Dieskau, Jon Vickers and many others.